Northwest Oklahoma City Self Storage, Gatekeeper Storage
Address
8701 N. Council Rd.
Oklahoma City, OK
Telephone
405-721-3818
Fax
405-721-4779
Hours
Monday–Saturday 9:00 – 5:30
Closed Sunday
Call 405-721-3818
For assistance, please call Jeff Coomer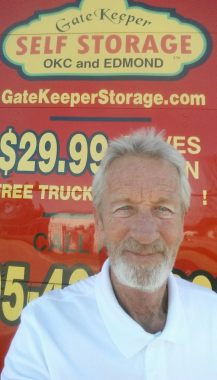 Your choice for friendly neighborhood self storage facility Looking for convenient and inexpensive storage? We're here to help. Gatekeeper North Council is located at 8701 North Council, right next to the fire station. It is a well established facility offering both climate controlled and regular storage in a variety of sizes.
We are excited to announce that our EXPANSION has been completed, and we are offering new, large 12′ x 40′, 12′ x 30, and 10'x 30′ units for your boat, RV or large vehicle. We also have new, large climate controlled units. For our new tenants.
GateKeeper is completely fenced and features Camera Systems and a computerized gate and individually locked. Only you have the key.
We are conveniently located at 8701 N Council Road, just south of the Northwest Expressway, and close to the Kilpatrick Turnpike. So you can easily drop by to get in to your unit. For your convenience, we also accept deliveries and offer locks, as well as packing and moving materials.
Each unit is based on a month to month occupancy agreement. To determine what size unit you need, just click on our "Space Needs" link above. Or you can call Jeff for help.
Contact Us