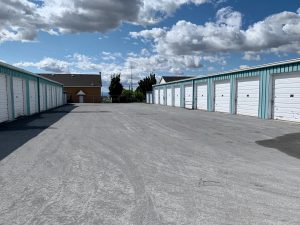 When looking to store their goods, most people worry about their property's security because of the things they are looking to store has value to them and no one wants to trust strangers with their possessions. Luckily, the public storage unit in Oklahoma City offer a safe place for you to store your things. Now comes the time to choose your storage unit.
In this case, you might find it more challenging to choose one due to the different options available in various storage units. Some features you may want to consider is that everyone wants to make sure you choose a facility that is secure, close to where you live and offers reasonable prices. And to find these features in the package you want, you would need to research a bit and look for options in your area to get public storage close to your needs. When you find out one near you should look into some features before renting the storage.
Security features of Public Storage unit in Oklahoma City
There must be appropriate security features available for the safety of your public storage unit in Oklahoma City, as security should be one of the main features in renting a storage unit. Even if you have nothing valuable in your unit, fending off potential thieves is important by making the storage facility feel safe. While the best public storage units will have the highest level of security, make sure to go over what they offer to make you feel safe.
Access hours
Make sure the storage facility has regular hours when you can store your belongings. Most of us don't want to wait the whole day to get in and out of our storage space.
Cameras
Make sure the storage facility has security cameras. Cameras have become an essential part of security facilities. As a storage unit owner, it makes you at ease because you know that your unit is supervised through cameras, and in case anything fishy happens, you have complete video footage of the scene. Moreover, a hidden camera is advised to protect your devices from any external damage by intruders.
Security guards
If you are a user, you must ensure the storage facility has security guards on site. With the placement of guards, the feeling of safety increases, and you feel that your belongings are taken care of by guards.
Check the prices of the public storage unit in Oklahoma City
Price is a significant factor when renting a public storage unit in Oklahoma City. Consumers mostly look for affordable storage unit prices that are easy to pay. They look out for public storage unit that offers comparatively reasonable price as others. We know that you can't control the cost of a unit, but you can ensure that you are getting the best deal by researching the prices.
One specific tip that users can use is that when you go online to look for public storage unit in Oklahoma City, you can often find zip code-specific websites that list the prices for specific locations. Using these websites, you can find the best prices for your area and save some money. This tip usually works and saves your money and precious time.
Don't forget to take a Tour!
While you can find many great public storage unit in Oklahoma City online, it's always a good idea to tour of the public storage unit in Oklahoma City and see how it works. Walking around in storage units well help scope out the environment, and you can see whether the features you saw online are authentic or not. Many storage facilities offer free tours, which can help you get a better feel for the facility and the on-site employee. You can also book tours online, so visit the website to find a tour schedule and location.
How should one move out of their public storage unit?
Moving out of the public storage unit in Oklahoma City can be difficult when you want to save your money simultaneously. Here are some tips that you can use to save some money on their public storage unit rent while moving out.
Informing the storage unit before leaving is the recommended method because most of the storage public units are required to be notified a specific amount of time to notify them before moving out otherwise, you maybe penalized. Look out for divided rents. That means if you have divided or prorated rents, you only pay the rent only for the days your belongings stayed there For example, if you stayed for 1.5 months, you may not have to pay rent for the 2nd month.
How to Clean Out a Storage Unit
When you're ready to empty your public storage unit in Oklahoma City, you'll want to make sure you clean it thoroughly. The storage unit is a property, and you are on a rental basis there, so you should make sure that everything is out of the storage and properly cleaned. It is recommended before going out, you should go through and check every box and item in the unit to make sure nothing has been forgotten. Because if you leave them, not only do you lose them, you can get a fine for that.
The storage units mostly have this clause in the documentation that you are responsible for the condition of the storage unit, so you should leave it in good condition. Most of the time, people get penalized when they don't leave the unit in good condition. It is advised to read the signed the documentation to ensure you don't get into trouble with the additional fee. You should remove your lock, and if it is password-locked, you should change it and tell the unit representatives.
Public storage units in Oklahoma City are an affordable way to store your things when you don't have enough room in your home or office. Choosing a suitable public storage facility can help you keep your valuables safe, but you must be careful when selecting one. Make sure the facility has the appropriate features in terms of security storage conditions, pricing, and a better move-out plan. So, you don't have to deal with trouble regarding your belongings for their storage.