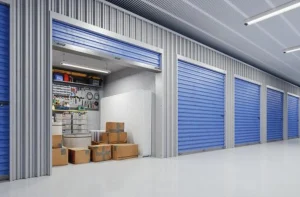 Are you planning to rent storage units? You haven't done this before; therefore, you have no idea how these storage units work and the important factors to consider.
Whether you want to store your belongings temporarily while relocating your place or want to keep them for the long term after downsizing, renting a storage unit is a suitable and space-saving option.
These storage facilities are safe, easy to find, and convenient for people, whether they are looking for a self-storage unit, vehicle storage, or large storage unit. We at Gatekeeper Self-Storage offer people climate-controlled storage units in various sizes in Oklahoma and Edmond.
Let's talk about how storage units work and, most importantly, what factors to consider before renting one. Let us get straight into it!
Storage Units
– How Do They Work?
The majority of the storage units work similarly. Whenever you need to rent a storage unit, you must sign a contract with a company for a defined amount of time to secure a storage unit on rent of your preference.
Generally, a storage unit is a place where you can safely store your belongings. Many storage companies offer month-to-month storage contracts; some companies have restrictions to at least rent a place on a minimum 3-months contract, though.
Furthermore, the restrictions and rules vary from company to company depending on the policy and services they offer. You only have to pay for the time you rent a place unless you break some rules or violate the contract.
It is illegal to conduct business or stay at the storage unit. Some storage units allow music bands to practice at their premises, but restrictions are associated, like no electricity access and noise ordinances.
Essential Checklist Before Renting a Storage Unit
Various factors are necessary while renting a storage unit- as it is essential to ensure your belongings are in a safe place while you are away. Let us dig in one by one.
Your topmost priority while renting a storage unit- it must be secure and safe. Therefore, check the following aspects to ensure this:
Accessibility:

ensure that whether or not you can access the storage unit anytime. It should be accessible 24 hours a day, seven days a week.
Pricing:

don't hesitate to ask for discounts or special offers. Also, note any pricing variability before signing a contract.

Reviews:

Check previous records and reviews by the formal client about the storage company.

Location:

consider a storage unit close to the city; also, balance the transportation expense with the storage price as to how much you would have to spend each time.

Storage Requirements
Get ready to verify your identification: provide a valid id and a government-issued id card for the renting. You can show your passport, military ID, State ID, or driver's license.
In addition, you also have to sign an agreement with the storage company and adhere to follow their rules and regulations.
Determination of Price of Storage Unit
Depending on the size of the storage unit and how long you want to use the space, define the price of the storage unit. Usually, the cost is decided every month, but you might get a discount while signing up for a longer period.
Another important factor to consider while renting a storage unit is how you will transport your stuff to the location. While signing up for space at GateKeeper Self-Storage, you will get a FREE move-in ruck facility for your convenience.
Though it is equally essential for your belongings to stay safe from climatic conditions, it becomes vital if you store furniture and clothes to prevent the growth of mildew and mold. Therefore, prefer storage units with a climate-controlled environment.
We offer our customers storage units of various sizes in a climate-controlled environment. It is always worthwhile to ensure your stuff is safe from the scorching heat or cold weather outside.
If you are storing the following items, ensure to get a weatherproof storage unit:
Antiques

Household appliances

Stamps

Instruments

Electronics

Artwork

Photos

Clothing

Leather and wooden furniture
Before renting a storage unit, talk to the company's representative and examine their customer service to figure out their customer service. Moreover, it is also necessary that the is staff professional and trained to give you answers to your queries and get the best services for you.
Popular Reasons for Renting Storage Units
In any life-changing event, many citizens find themselves in a situation of renting a place to store their belongings for a certain time. These are the most popular reasons behind renting a storage unit:
While selling or renting a house, many estate agents recommend upscaling the house furnishing. Therefore, they need a storage unit to keep their belonging for a short period. Also, it is a safe way to keep your stuff as working around them can damage them.
Whether you require small storage space or a larger one, at Gatekeeper Self Storage, you can get all. You can accommodate everything you like, from business documents to seasonal inventories; we are here to accommodate everything.
Certain life changes may also sometimes require renting a storage unit. For example, kids coming for a vacation or inheriting furniture from a relative can increase the need to rent a storage unit.
Other reasons for procuring a storage unit might include death in the family, downsizing, childbirth, marriage, separation, or divorce.
If you are remodeling your house while staying, there is often a chance of furniture getting ruined with dust, paint, or constructive debris. Instead of leaving your stuff in risky conditions, keep them in a storage unit and stay carefree.
Final Words
Thinking of booking storage units? Looking for a safe place? Try Gatekeeper Self Storage. You need a reliable and professional company to handle your goods.
Fortunately, with our skilled and trained staff members, you can count on us for your important stuff while you take care of the rest.