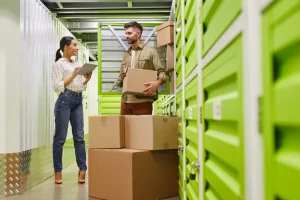 Do you feel overwhelmed by the clutter in your home or work space? Have you ever been embarrassed when unexpected visitors show up and your living space looks disorganized? If so, it may be time to free yourself from the clutter and use self storage! Self storage is a simple and cost-effective way to reclaim your space while keeping all of your belongings safe. This article will discuss how self storage can benefit you and provide tips on how to maximize its potential.
Clutter and Self Storage Units
Clutter is a common issue for many households, especially when living in a small space. While many people may want to declutter their home, they may not know where to start or feel overwhelmed by the task. Self storage units provide an easy solution for those wanting to clear out some of their belongings without having to get rid of them altogether.
Self storage units provide a secure place to store things from seasonal items such as holiday decorations or camping gear, to valuable furniture pieces or collections that may need extra protection from the elements. Whether it's longer-term storage needs or just storing things temporarily while downsizing or remodeling a home, self storage units can be used for anything and everything. Not only are there plenty of sizes and options available depending on individual needs, but these units are also often climate controlled which helps protect items from extreme temperatures and humidity levels.
Benefits of Releasing Clutter
Releasing clutter in your home can be a challenging, but rewarding experience. Not only is it an opportunity to declutter and organize your living space, but it also offers many surprising benefits that are often overlooked. Self storage units are one way to help you take control of the clutter in your life and improve both your physical and mental wellbeing.
Reducing clutter in the home has been proven to reduce stress levels by eliminating overwhelming visual stimulation. Getting rid of unnecessary items can also give you a sense of accomplishment, freeing up time for more meaningful activities like spending time with family or pursuing hobbies. Furthermore, creating more organized living spaces not only makes daily tasks simpler and quicker but also helps maintain order in other aspects of life such as work or finances.
Organization Tips
Organizing your home or office can be overwhelming, but it doesn't have to be. Self storage units are an ideal solution for organizing excess belongings and decluttering your space. They provide an easy way to store items in a secure environment, making it easier for you to access them when needed.
Self storage units come in varying sizes, so you can easily find the right unit that meets your needs. Not only do they provide extra room for items you don't use on a regular basis, but they also help keep everything organized so that you can easily find what you need when you need it. With self storage units, it is easy to store items such as seasonal decorations, holiday gifts, clothing, furniture, electronics and other miscellaneous items. An additional benefit is that these units often come with climate control options which protect sensitive items from extreme temperatures while they're in storage. Furthermore, many self storage facilities offer 24-hour security surveillance and lockable doors so you know that your possessions will remain safe while they're being stored away.
Self Storage Solutions
Self storage units have become a popular solution for organizing and decluttering homes. With self storage units, individuals can easily store items that are taking up too much space in the home without having to throw them away or sell them. Whether it is furniture and appliances from past moves or seasonal items that need to be tucked away during certain times of the year, having a safe and secure self storage unit is an ideal way to keep these items out of sight but not out of reach.
For those looking for organization solutions, self storage units provide the perfect place to store items in an orderly fashion. Not only do they come in varying sizes so you can choose one that fits your needs perfectly, they also feature climate-controlled settings which help protect delicate items such as paper documents and electronics from extreme temperatures.
Securing Your Possessions
When it comes to securing your possessions, self storage units are the perfect solution. Whether you need a place to store your belongings while moving homes or simply want to free up some space in your home, self storage units offer a secure and convenient option. Self storage facilities provide various sizes of storage units with different levels of security so that you can choose the right one for your needs.
At most self storage facilities, their state-of-the-art security systems will ensure that all customers' possessions are safe and secure 24/7. Each unit is individually locked and access is strictly controlled by either an electronic keypad entry system or individual keys which can be collected from reception. Most facilities also have CCTV cameras monitoring the entire premises to deter any suspicious activity.
Budgeting for Storage Space
Budgeting for Storage Space can be a daunting task. With the current rise of self storage units, it is important to know all your options and decide which one best fits your needs. Knowing the cost and availability of these facilities will help you make an educated decision when budgeting for storage space.
Self storage units are becoming increasingly popular in urban areas due to their convenience and affordability. They provide secure, climate-controlled units to ensure that items stay safe from the elements and theft. When choosing a self storage unit, consider factors such as size, accessibility and security features before making a decision. Make sure to read all rental agreements carefully so that you understand what you're getting into before signing any contracts.
It's also important to take into account additional costs associated with renting a self storage unit such as insurance fees or move-in specials offered by certain companies.
Freedom from Clutter
Clutter can be a major source of stress. It can take away from your productivity, as well as your overall enjoyment of life. The good news is that you can free yourself from clutter and get back to living the life you love. Self storage units are an easy and convenient way to store items that are taking up too much space in your home or office. You don't have to sacrifice comfort or convenience when it comes to self storage solutions.